Well, it seems, once again, that I have not been keeping this poor, neglected place updated. So, in order to give it some new life, I've decided to have a little giveaway!
Since my original idea of embroidering my sock monkey design onto card, I've since been embroidering them onto actual cards, and so, have decided to giveaway a set of 5 lovely cards, to a) make sure I check on my blog, and b) advertise the fact that said monkey cards are now available for sale in my Etsy shop!
These cards are blank inside, for your own message (although I think they'd make awesome invitation cards, or thank you cards...or even 'I just wanted to say hi' note cards!) and they are stamped on the back with the initials DHD (for DriaHades Designs).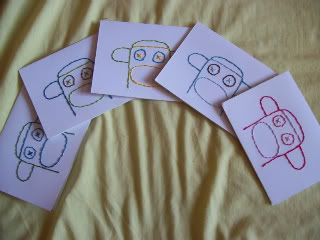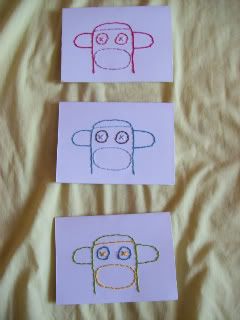 To enter, all you have to do is leave a comment on this blog post, saying what colours you think the embroidered monkeys would look good in! This will close on Friday August 14th, so you have 2 whole weeks to enter! After that, the names will go in a hat, and I'll get my lovely boyfriend to pick one out!
So...enjoy!