I've been playing around with the idea of embroidering sock monkeys on to things for a while, since I first doodled one, and then the idea suddenly hit me the other day to embroider them onto card. I plan to use them for thankyou notes, monkey birth certificates and perhaps gift cards, but I think they probably need a little more tweaking!
And this is a monkey I finished last night, who has been named Splodge.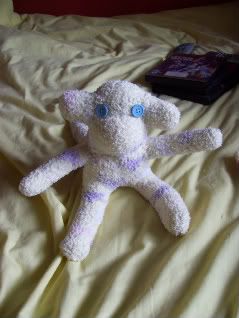 I'm also taking part in two mini-swap type things with some friends, which should keep me busy and hopefully creative. I'm having a plushie swap with one friend, and with the other we've decided to swap something crafty with a broad heading of 'it has to be stripy'! So that should hopefully inspire me somewhat!