I've been thinking about what to blog about for a while now, as I'm always quite rubbish at thinking of topics (I might have to make a list of random things to blog about for when I'm stuck!), and it occured to me today that I really don't talk about my totally awesome friends nearly enough!
I don't really have very many really close friends, and the few I do have I don't see nearly enough. In fact, one of them I've only met once, and I've never met the other!
I think my best friend in all the world is Miss Claire Coffeecups, who used to blog, but doesn't anymore, and who twitters occasionally. I'm not going to post links to that though as I'm not sure she'd be too happy! I met her on a Art / Dolling forum 3 years ago (I think) called Eden Enchanted, which sadly no longer exists. We were partners for a Halloween collaboration, and after a few months (it may even have been weeks!) we started writing letters to one another. We're still penpals now, although much more sporadically than we once were - and we still email, text and twitter at least twice a week. I honestly couldn't imagine my life without her anymore!
Here is the doll / art in question we made: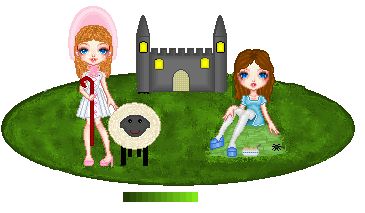 She is also the maker of really cute paper type products - here is a really cute notebook she made me from all different kinds of paper. It was only a prototype, and I'm not sure she's made any more, but I would totally buy them if she did!
I made Little Bo Peep on the left, and Claire made Little Miss Muffett on the right!
We've only met up in person once - a few years ago when I went to the Midlands to stay with her. Every year since we've said we're going to meet up, and we never have, but I'm really hoping that we will manage it at some point this year!
I do have some pictures of us together, but I don't want to post them without asking her first, so you'll have to keep visiting if you want to see us!
I do have a couple of other friends I plan to blog about, but I think this post has gone on for a fair while already, so they'll have to wait for another day! Sorry Bex and Steve!