I made more monkeys...I couldn't help myself!
Here we have:
Chester -
Dotty -
and Gordon -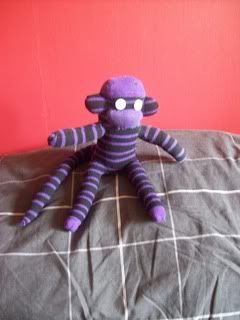 And here's one of them all (which is a bit dark - the sun wasn't out!) -
They're about the only crafty thing I've done of late. I seem to be in a bit of a slump really. I think being frustrated and a tad depressed about not being in work is starting to affect my motivation to do anything, so mostly, I don't feel creative.
Going to attempt to do some more cross-stitch today I think; it might help to get me out of my slump, but I'm not holding my breath really.
Anyone have any suggestions for how to get some creativity back?
Oh, and the monkies are for sale in both my Etsy and Folksy shops, links to which can be found to the left!